The Amazon of Housing
Customers are willing to pay for convenience.
Capital Thinking  •  Issue #694  •  View online
TL;DR - Opendoor is a way to buy or sell your home from your phone.
Their secret is the ability to price homes accurately. They can 10x by doing what they do today.
Zillow looms but that threat is overblown.
-Witty Wealth
---
Opendoor context:
About
Founded in 2014, Opendoor is building a 'one stop shop' for home ownership. Buy, sell, or trade your home quickly on your device, without having to interact with another human face to face. Think hailing an Uber or ordering from Amazon. Just much bigger.
Today, Opendoor offers to buy your home at a fair price. This is directly addressing the American dream!
Whenever someone I know sells their house through an agent, their experience is the opposite of what they wish.
In fact, check out this infographic below on the traditional home selling process. Internalizing this surfaces one feeling: pain.
How it works
So how does Opendoor's 'tap of the button' experience work? For the seller, it goes like this:
Go to Opendoor and briefly enter their home details
An inspector comes to see any repairs needed and confirm pictures
Soon after, they get an all cash, fair market value offer to buy their home
Afterwards, Opendoor does any repairs and resells the home. The homebuyer doesn't have to worry about any of that.
At the end of the day, Opendoor provides the two things a home seller cares about: getting a good price and doing it with minimal hassle. No more being disappointed in your realtor.
Opendoor was able to do this because they built everything by thinking for themselves. Every step of the transaction is either automated or has software to support it. No need to adhere to traditional norms, we're building a real estate machine.
Secret sauce
The secret that makes this all possible is Opendoor's ability to price homes accurately. They need to balance:
giving a fair offer to customers, while
not overpaying to where they can't make any money
Homeowners won't accept the offer unless it's good enough. Opendoor needs to resell the home at a similar price to breakeven.
It's a technological tightrope, at scale.
Fortunately, Opendoor and their best in class data science team have figured it out. They algorithmically price homes using 145 unique features. In fact, over 60% of offers they give out don't touch a human! That number will continue to improve over time with more data.
Money plan
Given this tightrope, Opendoor is bound on how much profit they make on flipping the home alone. They take a 5% commission fee (like an agent), and make around 4% on an individual house today.
How can they make more money?
An extra opportunity lies in handling the whole host of services that need to be done before a buyer can live in their home.
This includes ownership things like changing the name on the deed and getting a loan, to physical things like remodeling and moving in.
Customers are buying into the convenience of using Opendoor for additional services. 83% (!) of customers used Opendoor for their first offered additional service - title and escrow.
This business is attractive.
Customers are willing to pay for convenience.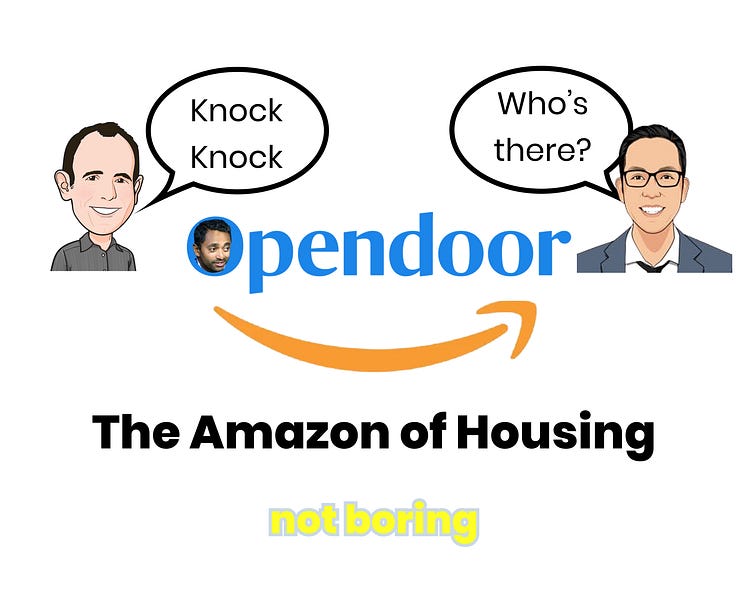 *Featured post photo by Daniel Eledut on Unsplash